Stephanie Kurtzuba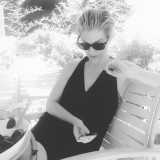 Stephanie is an actor/writer/producer based in NYC and is currently producing #MotherJudger, an official selection of the 2017 ITVFestival. She is a member of NYWIFT as well as IFP.
Stephanie has worked with some of the most renowned directors in the entertainment industry including Martin Scorsese, Stephen Daldry, and Sam Mendes.
She is a creator of Authentic TV's CannaBus and has been a co-producer/writer/actor for the sketch web series Trump Survival Kit with Point 7 Labs.
---
Videos